Well no complaints this week over the Summer of Color combination of Candy Apple red and yellow! So far I haven't been totally in love with the pastel colour combos, but these two....Far more Paper Rainbow!
As a rule I don't wear yellow, and I often say I don't like it, but when combined with bright poppy red, well who wouldn't !
My oriental Poppy started life like this. A multi layered background of papers, gesso and paint.
The poppies were napkin pieces which I tore up. There is nothing that says Summer more than the bold red of a poppy and golden yellow sunshine!
I was going to call my lady just plain old Poppy but at the last minute found some gorgeous Chinese paper in brightest red in my paper box. It was just made to be a dress for her!
So here she is Oriental Poppy, a wild and exotic being!
Linking to The Summer of Color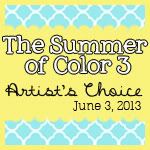 And also
Paint Party Friday!!!